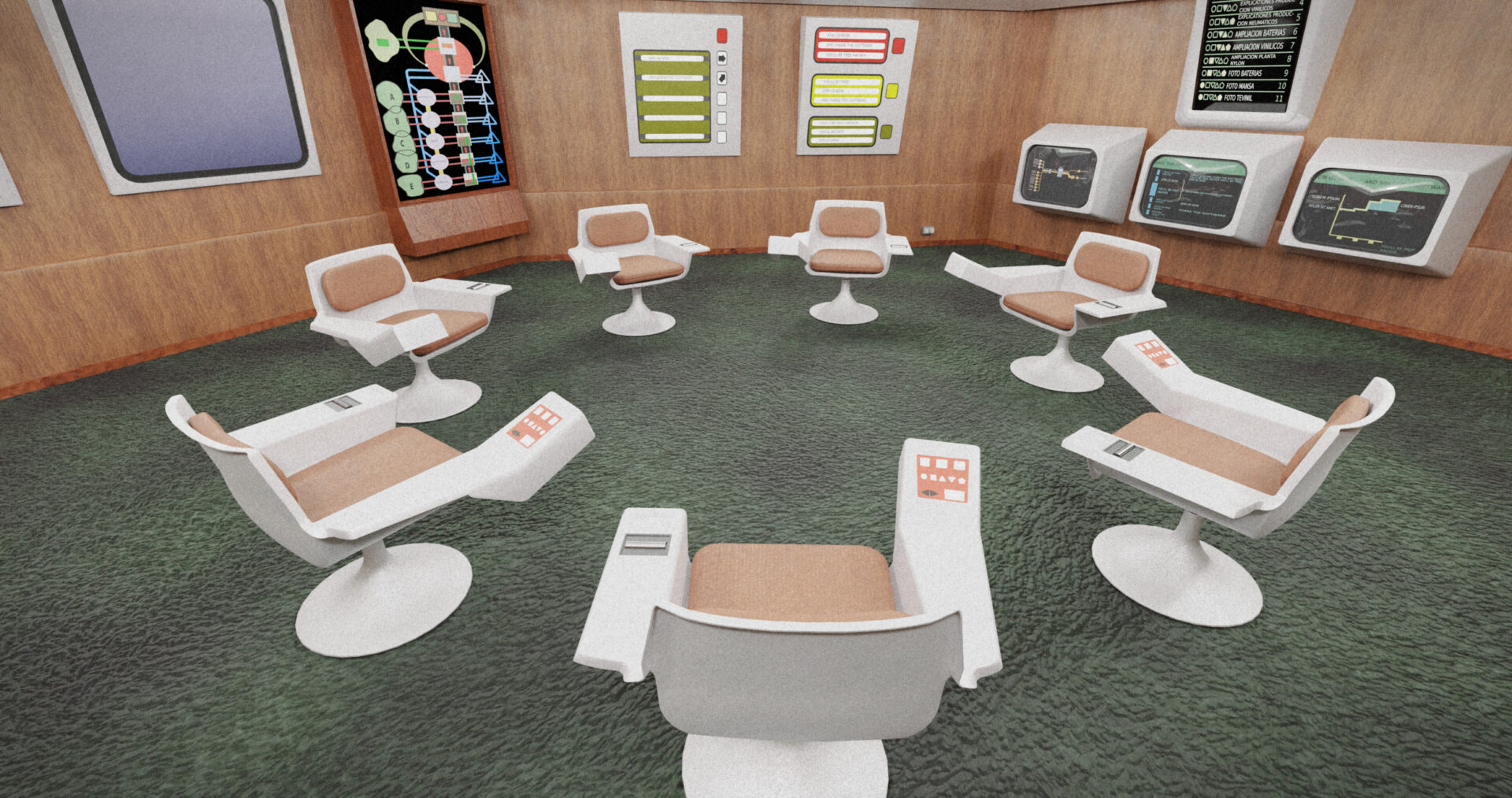 A 3D render of the Operations Room for Project Cybersyn in Chile in the 1970's
The Brain Trust is a series of lectures exploring human scale technologies from play agriculture to 3D printing, from local energy production to independent education.
David Graeber was involved in creating the Brain Trust in the last year of his life at the suggestion of the founding members of the Extinction Rebellion.
A true optimist, David always said, "There's a problem, let's solve it together."
Anthropologists, economists, activists, artists and engineers gathered in David Graeber's office at the London School of Economics to brainstorm solutions to a series of problems that humanity will face as Climate Change unfolds. They made presentations, held roundtables, and long conversations.
The aim was for this collective effort to come together in one document – general recommendations to the government, petitioned by Extinction Rebellion – on how to avoid the looming crisis to our shared planet and climate system leading to the loss of biodiversity and the real risks of social and ecological collapse within our lifetimes.
Three years after David's death, the David Graeber's Institute revived the Brain Trust project. We invite anthropologists, economists, scientists, artists and activists to participate in discussions, public lectures, and meetings.
However, there is one difference – instead of approaching the government with our wish list of what should be done to stop or at least slow down the climate crisis; we will gather a collection of actions that we, ourselves, the people, can do individually and collectively without the permission or participation of governments.
Following David Graeber's ideas to work as a direct action network, gathering projects that can be carried out "by the people for the people" without government involvement or permission, to build autonomous zones… in the cracks of the system.
Join us by attending our lectures, workshops or other projects or set them up in your own community.
We will accompany our program with various artistic and educational projects: exhibitions, theatrical debates, visual assemblies and workshops.
We partner with art and academic institutions to expand the project to the widest possible audience.
Here is our Brain Trust International Board of Advisors.
To find out more email us
Brain Trust Lectures
Brain Trust will start as a series of 12 public lectures in September 2023